<< All Companies
About Azmi Fadzly Maha & Sim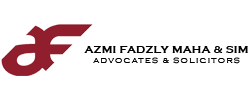 AZMI FADZLY MAHA & SIM is a Malaysian law firm that offers a broad range of legal professional services to corporate entities, government bodies, organizations and also individuals in corporate and commercial matters as well as dispute resolution.

The Firm believes in a comprehensive and practical approach in delivering its services to cater to the needs of its clients in an expeditious manner.
Area of practice
Azmi Fadzly Maha & Sim practices law in the following areas and works with its clients to provide the best possible legal solutions.
Corporate and Commercial
- Corporate Restructuring and Insolvency
- Employment & Industrial Relations
- Litigation and Dispute Resolution
- Project and Construction
- Property Development
Acquisition & Disposal
- Shipping and Maritime
Recommend to a friend
0% of 0
REVIEWS
Approve of management
0% of 0
REVIEWS
Azmi Fadzly Maha & Sim LOCATIONS
Azmi Fadzly Maha & Sim Headquarters
A4-2-5, SOLARIS DUTAMAS, ,
NO.1, JALAN DUTAMAS 1,
Kuala Lumpur, Federal Territory
Your Azmi Fadzly Maha & Sim Experience
Azmi Fadzly Maha & Sim
ADD REVIEW
Do you currently work at Azmi Fadzly Maha & Sim? Have you worked there in the past? Please rate your expierence and share your thoughts!