<< All Companies
About Thorp Law Firm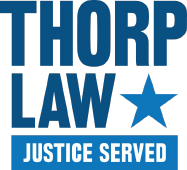 In a split second—the collision of two vehicles, a burn or head injury—life as you know it can be changed forever. The same goes for a fateful act of eminent domain: one that requires you to sell your property to the government—and watch it get destroyed and turned into a freeway.

We at Thorp Law understand that life can be disrupted. We also see a disturbing tendency. When it comes to either a damaging act of negligence or an unfair condemnation valuation, there's often an imbalance of power.
Area of practice
Thorp Law Firm practices law in the following areas and works with its clients to provide the best possible legal solutions.
Personal Injury Litigation
Recommend to a friend
0% of 0
REVIEWS
Approve of management
0% of 0
REVIEWS
Thorp Law Firm LOCATIONS
Thorp Law Firm Headquarters
150 Fayetteville Street ,
Suite 1910
Raleigh, North Carolina
27601
Your Thorp Law Firm Experience
Thorp Law Firm
ADD REVIEW
Do you currently work at Thorp Law Firm? Have you worked there in the past? Please rate your expierence and share your thoughts!

More Jobs at Thorp Law Firm