<< All Companies
About Campbell Stephenson LLP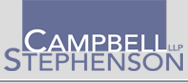 The attorneys of Campbell Stephenson LLP are focused on providing clients with high quality intellectual property services tailored to their business needs. From Fortune 500 corporations to start-ups, we are dedicated to providing professional services and work product to every client in a timely and cost-effective manner. We also have administrative staff members with wide experience in patent and other intellectual property matters.
Area of practice
Campbell Stephenson LLP practices law in the following areas and works with its clients to provide the best possible legal solutions.
Patent Prosecution
Intellectual Property Counseling
Opinions Of Counsel
Licensing & Transactions
Electronics
Software
Telecommunication
Semiconductor Processing
Optics
Recommend to a friend
0% of 0
REVIEWS
Approve of management
0% of 0
REVIEWS
Campbell Stephenson LLP LOCATIONS
Campbell Stephenson LLP Headquarters
11401 Century Oaks Terrace ,
Building H, Suite 250
Austin, TX
78758
Your Campbell Stephenson LLP Experience
Campbell Stephenson LLP
ADD REVIEW
Do you currently work at Campbell Stephenson LLP? Have you worked there in the past? Please rate your expierence and share your thoughts!