<< All Companies
About Kheng Hoe & Partners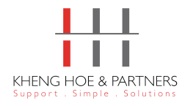 We serve businesses, business owners and high net-worth individuals. We may not be businessmen, but we have your business on the top of our minds. While we take care of the legalities, we talk commercial realities. We understand that as far as you are concerned, commercial realities rule.
Area of practice
Kheng Hoe & Partners practices law in the following areas and works with its clients to provide the best possible legal solutions.
Litigation
Arbitration
Real Estate And Banking
Corporate And Commercial Drafting
Cross Border Transactions
Trade Marks
Employment
Recommend to a friend
0% of 0
REVIEWS
Approve of management
0% of 0
REVIEWS
Kheng Hoe & Partners LOCATIONS
Kheng Hoe & Partners Headquarters
No. 29B, Jalan Wan Kadir 2 ,
Taman Tun Dr. Ismail
Kuala Lumpur, FEDERALTERRITORY
60000
Your Kheng Hoe & Partners Experience
Kheng Hoe & Partners
ADD REVIEW
Do you currently work at Kheng Hoe & Partners? Have you worked there in the past? Please rate your expierence and share your thoughts!

More Jobs at Kheng Hoe & Partners