<< All Companies
About Carroll Heyd Chown LLP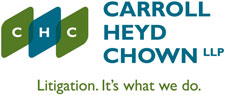 Carroll Heyd Chown LLP is a 10 lawyer firm established in Barrie in 1973 by Kevin Carroll, Q.C. LSM. Since then, we have developed a reputation among the bench and bar as committed advocates who are always prepared, professional, and respectful. We focus exclusively on civil litigation.

We represent insurers, businesses and individuals before all levels of court and administrative tribunals in Ontario. The wide range of experience among our lawyers allows us to cost effectively manage files, ranging from the most complex to the relatively simple.
Area of practice
Carroll Heyd Chown LLP practices law in the following areas and works with its clients to provide the best possible legal solutions.
Employment Law
Contractor and Shareholder Disputes
Construction Litigation
Environmental Litigation
Products Liability
Recommend to a friend
0% of 0
REVIEWS
Approve of management
0% of 0
REVIEWS
Carroll Heyd Chown LLP LOCATIONS
Carroll Heyd Chown LLP Headquarters
109 Ferris Ln
Barrie, ON
L4M 4T7
Carroll Heyd Chown LLP Office
PO Box 548 ,
556 Bryne Drive , Suite 20
Barrie, Ontario
Your Carroll Heyd Chown LLP Experience
Carroll Heyd Chown LLP
ADD REVIEW
Do you currently work at Carroll Heyd Chown LLP? Have you worked there in the past? Please rate your expierence and share your thoughts!